NILE RIVER VALLEY,
EGYPT

February 14th - 28th, 2024

EGYPT
This 13-day sacred site tour provides a once-in-a-lifetime immersion into the ancient temple sites along the Nile River Valley. Traversing through a bespoke hotel stay on the Giza plateau, exclusive temple tours, and a private Dahabiya – a unique sailing vessel only found on the Nile – this co-creative experience is set to be absolutely sublime.
DIAMOND LIGHT BODY ACTIVATION
This tour aligns with the 13-Day Wavespell of the Mirror. We are sure to activate your true higher self and amplify your inner life force energy as we weave through the temples, sacred sites and celestial alignments together. 
There is no place on earth like this vortex - expect the unexpected - prepare for the mystery - frequencies will be off the charts.
Let's support each other in our ascension!
Temple Tours
Egyptologist Guide
Two Flights: Cairo to Aswan & Luxor to Cairo
Nile River Cruise on a Private Dahabiya
Camel Rides
Temple Activation Facillitation
Stargazing Experiences
Earth Activation Ceremonies
Daily Meditation // Somatic Movement
NILE RIVER VALLEY
From Abu Simbel to the Giza Plateau, this tour spans all the major energetic "chakras" of the Nile along with their corresponding temples and sacred sites. This tour will activate your kundalini on a multidimensional level, just as adepts and ancients have been doing for millennia.
MULTIDIMENSIONAL
Melanie ensures that we have time each morning to tune into the body through a variety of different modalities depending on the frequency of the day and where we are on our journey. Meditation, chakra attunement, kundalini yoga and somatic movement all play a big part in our day and how we receive these temple activations.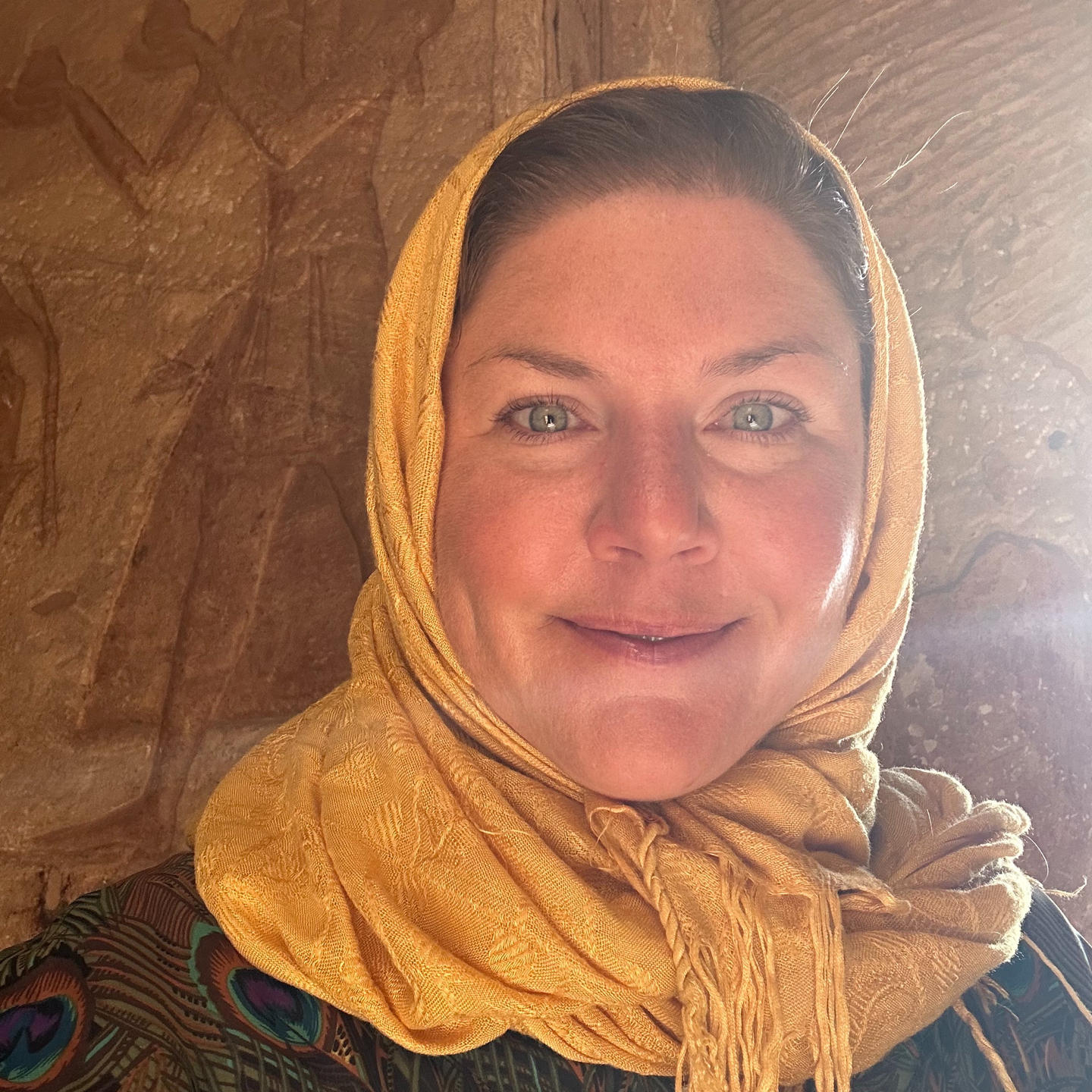 MELANIE KAY
Master of Ceremonies
Melanie Kay has dedicated her life to a path of service and to Earth's Ascension. As this requires a multitude of roles to support the collective, she proudly holds titles such as Tarot Reader, Mayan and Sidereal Astrologer, Reiki Master, Somatic Psychotherapist, Galactic High Priestess, Crystalline Grid Mechanic and Ascension Researcher. It is her absolute joy and pleasure to share her gifts and wisdom in any way to support your journey.
Book a Session
HALA AHMED aka "SUGAR QUEEN"
Egyptologist Guide
Hala grew up on the Giza Plateau and comes from many generations of tour guides for the Giza Pyramids. She graduated from Cairo University with a degree in Egyptology and Antiquities in 2005 and has been working as a licensed tour guide since 2008. She started her own tour company, Egypt Royal Tours and has since been recognised by the department of Antiquities as a distinguished tour operator in Egypt
Go to Reviews
"

Melanie is genuinely authentic, natural, and extremely connected to the land and with her internal guidance. Melanie's ability to hold sacred space, honoring elders and protocols during ceremony are impeccable. She is a natural born leader, empath, healer, and teacher."
JENNIFER BERRYHILL
Blue Owl Woman
"

Melanie Kay is a breath of fresh air. Whether she is doing Energy Healing, Teaching, Earth Healing, Stargate work or leading a sacred site tour you are in skilled hands. She is a compassionate, kind, grounded, galactic human who has a great ability to hold space and assist you on your Earth journey and mission."
TANYA CORONA
Ascension Alchemist